Welcome to Frank's Ices
Ayrshire Soft Ice Cream Van

Please let me take this opportunity to introduce myself and my business to you. My name is Frank Carroll and I own a fleet of Ice Cream vans.
A family business based in Kilmarnock, we provide a range of confectionery soft serve ice cream, soft drinks and associated products to the general public and pride ourselves in our continued levels of customer service and quality of products offered. We have over 30 years experience in the ice cream trade.
We have considerable experience in all types of events from small events to large events. No event is too small or too big. We are fully insured and hold public liability insurance and we have a portable appliance testing report plus risk assessment reports for your peace of mind.
What People Think Of Frank's Ices...

'Frank attended our wedding and was fab! He was really helpful and accommodated all our requests. He was really reasonable and didn't hear the word wedding and hike up all the prices. Our guests loved it and it was perfect for the laid back wedding we were going for. 5 stars.' at Your Wedding Venue in Criagie
---
'Franks Ices attended our company Family Fun Day on the 4th Aug. He was brilliant from start to finish, he provided us with the tokens to claim your ice cream, was prompt and had a great rapport with all our team and their family and friends on the day. As soon as I know next years date, I will be booking again. Thanks for a great day.' Web Help Kilmarnock Read more...
---
'We had booked frank to attend our wedding, at the Marine Hotel in Troon, to supply our guests with goodies. He supplied a great service from arranging with the hotel the time and place to serving up ice cream, slushies and candy floss! couldn't rate him highly enough, we even got some amazing pictures taken inside the van :)! Our guests are still ranting about it. So thank you so much Frank, our day wouldn't have been as awesome without you there! Jac and Kerr Maconochie Read more...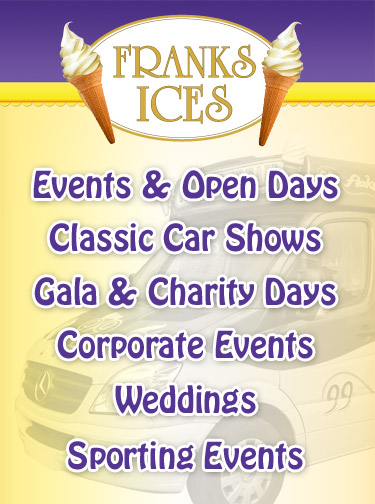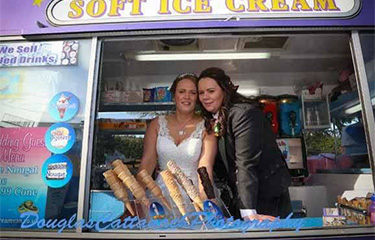 'Myself an Lindsay Mcdonald had booked Frank to attend our wedding at the Lochside House Hotel in Cumnock, he supplied our guests with loads of goodies. He arranged with the hotel the time and the place to serving ice cream, slushies and candy floss. We had pictures taken inside an outside the ice cream van. Our guests loved it an thought it was a great idea. Frank provided a great service an we highly recommend him. Thank you frank our day wouldn't have been as awesome without you there.' Read more...
---
'We hired Frank and one of his vans to deliver ice cream to listeners around Ayrshire on a hot sunny day. Franks friendly, professional and can-do manner made the day a huge success. I would definitely hire him again, I had a great time, lots of laughs and his van looks the business. He even played the ice cream van's chimes as we pulled up at listeners work places, it worked wonders!'
West FM Radio Read more...
---
'Frank Carroll gets 10 out of 10, and his 99s score 100. West Coast Jaguar and AutoScots recommend Frank's Ices. They have been our chosen supplier of ice cream and confectionery at West Coast Rally for the past two years, and the service and quality are unmatched.' Read more...